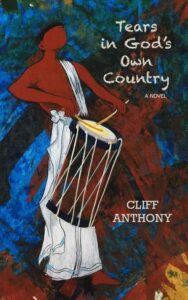 Tears in God's Own Country,  an upmarket fiction, is available on Amazon, Barnes & Noble, Ingramspark ($14.95), Kindle ($2.99), and at all bookstores upon request.
*
The story: Alumaram villagers in India love Chenda's kettledrum music, but they won't invite him to their house.
Why?
Because he is dark. Black. Hence, he must be a low-caste parayan. An untouchable.
But that doesn't discourage Chenda from dreaming of playing music at Carnegie Hall. He urges a herbal medical store manager to run for office so that, once the manager wins the election, he could help Chenda obtain an Indian passport and a U.S. visa. But the manager has other plans.

Reviews
"Rich with insight, feeling, and playful wit, Tears in God's Own Country is a heart-breaking story of unfulfilled dreams, colorism, politics, status, and hard choices. Anthony shines at memorable characterization and a fast-moving plot. Fans of politically charged historical fiction and contemporary works rich in cultural narratives will find this captivating." — Publisher's Weekly/BookLife (Editor's Pick).
#
"In his novel Tears in God's Own Country, Cliff Anthony vividly paints the social and political milieu of a village in India, whose themes and focus represent a universal concern. Driven by powerful cultural images, including colorism, this book sails gracefully down the page."
— Bruce Weigl, 2013 Pulitzer finalist for poetry.
#
"Chenda's (the protagonist) empathy and gentleness counter the ugliness around him: 'He sat on the steps, looked at the stars, and felt sorry for them. The sun and the moon can escape from east to west, but the stars don't. They had to sit in the same spot in the sky night after night and watch people kill each other.' "
— Marc Bona,  The Plain Dealer and Cleveland.Com.
#
"With humor and pathos, Cliff Anthony delivers an important time in India's history through the story of a man called Chenda, as we learn about who he is and the strange and sometimes disturbing characters and events that frame his life."
— Sarah Willis, author of Some Things That Stay (New York Times Notable Book).
#
"While "Tears in God's Own Country" may tackle serious issues, it has a lot of heart and a lot of humor, from a tennis ball sparking a religious riot between the local Hindus and Muslims to a missing cow doing the same and other antidotes weaved throughout." — Christina Jolliffe, The Chronicle-Telegram.
#
"The book is worth reading as it is so reflective of our own country in many ways."
— Linda Gandee, Cleveland.Com.
Contact
Cliffanthony1@yahoo.com